My Blog
Posts for tag: tooth decay
By Leigh Family & Cosmetic Dentistry
April 18, 2020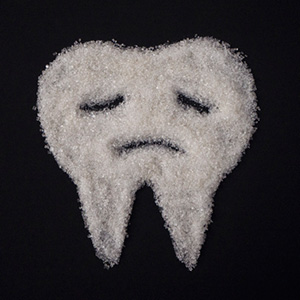 You've heard it. Your parents heard it—maybe even your grandparents too. Dentists have been alerting people for more than half a century that high sugar consumption contributes to tooth decay.
That message hasn't changed because the facts behind it are the same in the 2020s as they were in the 1950s: The bacteria that cause tooth decay feast on sugar and other leftover carbohydrates in the mouth. This causes them to multiply and increase their production of acid, which softens and erodes tooth enamel.
What has changed though, especially over the last couple of decades, is a growing understanding of how sugar consumption may affect the rest of the body. Just like the evidence of sugar's relationship to tooth decay, current scientific studies are now showing there are strong links between sugar and diseases like diabetes, heart disease and liver disease.
What's startling about what researchers are finding is that cases of these diseases are growing, Especially in younger people. This is a parallel trend to our skyrocketing increases in per capita sugar consumption: the average American now eats the equivalent of 19.5 teaspoons of added sugar every day. Health experts generally agree we should consume no more than 6 teaspoons a day, and children 4.
This is vastly more than we consumed a generation ago. One reason is because processed food manufacturers have increased sugar in their products, hiding under technical, unfamiliar names in ingredient lists. But it's still sugar, and an estimated 74% of processed foods contain some form of it.
But the real surge in sugar has come from our increasing consumption of sodas, as well as energy and sports beverages. These beverages are high in sugar—you can meet your daily allowance with just one 12-oz can of soda. These beverages are now the leading source of sugar in our diets, and, according to experts, a highly dangerous way to consume it.
In effect, dentists of old were on to something: too much sugar is bad for your teeth. It now turns out that it may be bad for your overall health too. Strictly limiting it in your family's diet could help lower your risk of tooth decay and dangerous diseases like diabetes.
If you would like more information on sugar and your health, please contact us or schedule an appointment for a consultation.
By Leigh Family & Cosmetic Dentistry
July 03, 2019
Cavities can happen even before a baby has his first piece of candy. This was the difficult lesson actor David Ramsey of the TV shows Arrow and Dexter learned when his son DJ's teeth were first emerging.
"His first teeth came in weak," Ramsey recalled in a recent interview. "They had brown spots on them and they were brittle." Those brown spots, he said, quickly turned into cavities. How did this happen?
Ramsey said DJ's dentist suspected it had to do with the child's feedings — not what he was being fed but how. DJ was often nursed to sleep, "so there were pools of breast milk that he could go to sleep with in his mouth," Ramsey explained.
While breastfeeding offers an infant many health benefits, problems can occur when the natural sugars in breast milk are left in contact with teeth for long periods.  Sugar feeds decay-causing oral bacteria, and these bacteria in turn release tooth-eroding acids. The softer teeth of a young child are particularly vulnerable to these acids; the end result can be tooth decay.
This condition, technically known as "early child caries," is referred to in laymen's terms as "baby bottle tooth decay." However, it can result from nighttime feedings by bottle or breast. The best way to prevent this problem is to avoid nursing babies to sleep at night once they reach the teething stage; a bottle-fed baby should not be allowed to fall asleep with anything but water in their bottle or "sippy cup."
Here are some other basics of infant dental care that every parent should know:
Wipe your baby's newly emerging teeth with a clean, moist washcloth after feedings.
Brush teeth that have completely grown in with a soft-bristled, child-size toothbrush and a smear of fluoride toothpaste no bigger than a grain of rice.
Start regular dental checkups by the first birthday.
Fortunately, Ramsey reports that his son is doing very well after an extended period of professional dental treatments and parental vigilance.
"It took a number of months, but his teeth are much, much better," he said. "Right now we're still helping him and we're still really on top of the teeth situation."
If you would like more information on dental care for babies and toddlers, please contact us or schedule an appointment for a consultation. You can also learn more by reading the Dear Doctor magazine articles "The Age One Dental Visit" and "Dentistry & Oral Health for Children."
By Leigh Family & Cosmetic Dentistry
November 27, 2016
Sports and energy drinks — two different types of popular beverages. But though different they have one thing in common: they can both wreak havoc on your tooth enamel.
That's because each contains high concentrations of acid. And acid is tooth enamel's mortal enemy — prolonged exposure with it causes the minerals in enamel to soften and erode, a process called de-mineralization.
Demineralization becomes even more pronounced when the mouth's pH levels fall below 4.0 into the acidic range. A sampling of various brands of sports and energy drinks reveal mean pH levels below even that threshold. Energy drinks are especially harmful to enamel because the type of acid they contain is more concentrated.
So, what can you do to minimize this threat to your dental health? The optimal thing to do is avoid such beverages altogether, especially energy drinks. If you currently re-hydrate after hard work or exercise with sports drinks, consider switching to water, nature's hydrator.
If you do, however, continue to drink these beverages, then follow a few precautions to lessen the acidic levels in your mouth:
Wait until mealtimes. Saliva is your body's way of neutralizing acid in your mouth, but it takes about 30 to 60 minutes for it to fully buffer acid. If you're sipping between meals on acidic beverages, saliva can't keep up. So, wait until you eat or limit your sipping time on a drink.
Rinse with water. Since water's pH is neutral, swishing some in your mouth right after drinking a sports or energy drink will help reduce acidity.
Wait an hour to brush. Your enamel will begin demineralizing as soon as it encounters acid. If you brush right away you could be sloughing off miniscule amounts of softened minerals. By waiting an hour you give your saliva time to buffer and help re-mineralize the enamel.
Although popular, especially among teenagers and young adults, overindulgence in sports and energy drinks could damage your teeth and increase your risk for tooth decay. With a little moderation and common sense, you can keep your enamel strong and healthy.
If you would like more information on the effects of sports and energy drinks on dental health, please contact us or schedule an appointment for a consultation. You can also learn more about this topic by reading the Dear Doctor magazine article "Think Before you Drink."