My Blog
Posts for tag: root canal treatment
By Leigh Family & Cosmetic Dentistry
June 07, 2020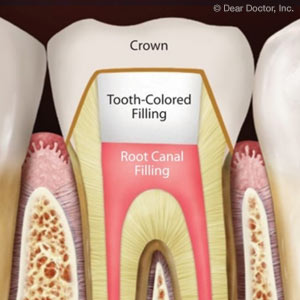 It's not an exaggeration to say the modern root canal treatment has saved millions of teeth over the last century. Without this procedure, there's not a lot we can do to stop advanced tooth decay from infecting and destroying a tooth.
What's more, a root canal treatment could extend the life of a tooth for decades. Notice we said could—although most root canals do have satisfactory outcomes, there's still a chance a tooth may become re-infected. Here are 3 possible causes for an unsuccessful root canal treatment, and what you can do to lessen their impact.
The severity of the infection. Tooth decay usually begins at the enamel layer, softened by the acid produced by bacteria. Untreated, the infection can then spread through the next tooth layer of dentin until finally infecting the innermost pulp. From there the infection can move through the root canals to the bone, dramatically increasing the danger to the tooth. Root canal treatments have a higher chance of success the earlier they're performed in the disease progression, so see your dentist at the first sign of pain or other tooth abnormality.
The root canal network. An effective root canal procedure eliminates all dead or diseased tissue in both the pulp chamber and the root canals (these are then filled to prevent future infection). But this may prove difficult with teeth that have intricate root canal networks because of a higher risk of overlooking some of the canals. It may be best in such cases for an endodontist, a specialist in treating interior tooth issues, to perform the procedure using their advanced techniques and microscopic equipment.
The age of the tooth. Root canal treatment can weaken a tooth's structural integrity, especially with older teeth. This can make them more susceptible to fracture and a higher chance of infection. We can avoid this outcome by placing crowns on root-canaled teeth: The crown provides structural strength to the tooth and can add further protection against infection. Older teeth may also benefit from the placement of a small support post within it to further add stability before applying the crown.
If you would like more information on root canal treatment, please contact us or schedule an appointment for a consultation. You can also learn more about this topic by reading the Dear Doctor magazine article "Root Canal Treatment: How Long Will It last?"
By Leigh Family & Cosmetic Dentistry
May 14, 2019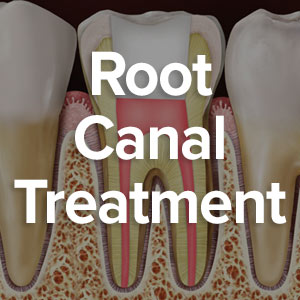 Every year U.S. dentists perform around 25 million root canal treatments and save countless teeth from the ravages of decay. But if you search "root canal" on the Internet, you might encounter an unsettling charge against this tooth-saving treatment—that it causes cancer.
Root canal treatments are routinely used when tooth decay has infected the pulp, the innermost layer of a tooth. During the procedure, we access the pulp and remove all the infected tissue. We then fill the empty pulp and root canals, seal the access hole and later crown the tooth to prevent further infection. Without this intervention, the decay can continue to advance toward the roots and supporting bone, putting the tooth in imminent danger of loss.
So, is there any credibility to this claim that root canal treatments cause cancer? In a word, no: there's no evidence of any connection between root canal treatments and cancer—or any other disease for that matter. On the contrary: root canals stop disease.
As with other types of urban legends and internet hype, the root canal-cancer connection may have arisen from another discredited idea from the early 20th Century. A dentist named Weston Price promoted the notion that leaving a "dead" organ in the body led to health problems. From his perspective, a root canaled tooth with its removed pulp tissue fit this criterion.
In the mid-1950s, dentistry thoroughly examined Dr. Weston's theory pertaining to treatments like root canals. The Journal of the American Dental Association devoted an entire issue to it and found after rigorous scientific inquiry that the theory had no validity in this regard. Another study in 2013 confirmed those findings. In fact, the later study instead found that patients who underwent a root canal treatment had a 45 percent reduction in oral cancer risk.
Given the freewheeling nature of the Internet, it's best to speak with a dental professional about your oral health before trusting a post or article you've found online. Not only are they more informed than an unverified online source, they would certainly not knowingly subject you to a procedure to save a tooth at the expense of your health.
If you would like more information on root canal treatment, please contact us or schedule an appointment for a consultation. You can also learn more about this topic by reading the Dear Doctor magazine article "Root Canal Safety."
By Leigh Family & Cosmetic Dentistry
October 16, 2018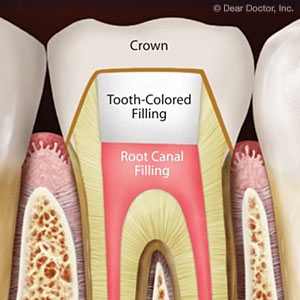 A tooth with deep decay is in real peril. If the disease isn't stopped, it can eventually infect the bone and greatly increase the risk of losing the tooth. But tooth decay removal and a root canal treatment can stop advancing decay and resulting infection in its tracks.
During this common procedure we first drill into the tooth to access the inner pulp. After removing the infected pulp tissue, we disinfect and fill the empty chamber and root canals with gutta percha. We then seal the tooth and crown it to protect against re-infection.
But while most root canals are successful and long-lasting, sometimes the tooth becomes re-infected. Here are 3 factors that could affect the long-term success of a root canal treatment.
Early treatment. Like many health problems, the sooner we detect decay and treat it, the better the outcome. A tooth in which the infection has already advanced beyond the pulp is at greater risk for re-infection than one in which the infection is localized in the pulp. Keeping up your regular dental visits as well as seeing the dentist at the first sign of abnormality—spots on the teeth or pain—can increase your chances of early diagnosis.
Tooth complications. Front teeth with their single roots and canals are much easier to access and treat than a back molar with an intricate root canal network. Root canals can also be extremely narrow making them easy to miss during treatment. In cases like this the expertise and advanced equipment of an endodontist (a specialist in root canal treatment) could help increase the odds of success in complex situations.
The aging process. Teeth do wear over time and become more brittle, making them increasingly susceptible to fracture. A previous root canal treatment on an aging tooth might also increase the fracture risk. To avoid this, it's important for the tooth to receive a crown after the procedure to protect the tooth not only from re-infection but undue stress during chewing. In some situations, we may also need to place a post with a bonded composite buildup within the tooth to give it extra support.
Even if a tooth has these or similar complications, a root canal treatment may still be advisable. The benefits for preserving a decayed tooth often far outweigh the risks of re-infection.
If you would like more information on root canal treatments, please contact us or schedule an appointment for a consultation. You can also learn more about this topic by reading the Dear Doctor magazine article "Root Canal Treatment."