My Blog
Posts for: March, 2018
By Leigh Family & Cosmetic Dentistry
March 17, 2018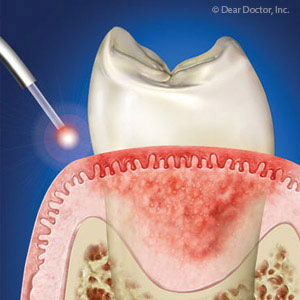 One of the most important revolutions in healthcare in recent decades is the increasing use of lasers. Now, laser technology is making a showing in dental care for the treatment of periodontal (gum) disease.
Lasers (an acronym for "Light Amplification by Stimulated Emission of Radiation") narrowly focus and amplify light within a small area. First developed in the early 1960s, laser technology rapidly advanced in the ensuing decades with more compact and precise devices that were eventually safe and effective for many types of medical procedures. Its remarkable features are now available for the primary focus of gum disease treatment—removing bacterial plaque.
Plaque is a thin, built-up film of bacteria and food particles on tooth and gum surfaces that serves as a haven for the bacteria that cause gum disease. The continuing presence of plaque and calculus (tartar) enables the infection to thrive and advance within the gum tissues, ultimately damaging them along with supporting bone. As the tissues weaken and bone volume diminishes, the teeth are at greater risk for loss.
It's necessary, therefore, first and foremost to remove all detectable plaque and calculus to stop the infection. This is traditionally done with special hand tools called scalers used to manually remove plaque, or with ultrasonic equipment that vibrates plaque loose to be flushed away with water. These procedures can take numerous sessions and may result in some minor post-procedural discomfort and bleeding during the cleaning.
But lasers specifically designed for plaque removal can minimize tissue damage and resulting discomfort. Because the particular laser light used reacts only with plaque and diseased tissue, it can remove them without disturbing nearby healthy tissue usually more efficiently than traditional scaling. Dentists who've used the technology frequently report less bleeding and higher patient satisfaction.
But before lasers for gum disease treatment are widely adopted, the procedure must undergo further scrutiny. Reports from dentists notwithstanding, not enough research studies have been performed to date that meet the necessary scientific criteria. But if the evidence so far from the field holds up, it's quite possible lasers will one day become a regular part of dental practice for treating gum disease.
If you would like more information on treating gum disease, please contact us or schedule an appointment for a consultation. You can also learn more about this topic by reading the Dear Doctor magazine article "Lasers Versus Traditional Cleanings for Treating Gum Disease."
By Leigh Family & Cosmetic Dentistry
March 02, 2018
Mayim Bialik has spent a good part of her life in front of TV cameras: first as the child star of the hit comedy series Blossom, and more recently as Sheldon Cooper's love interest — a nerdy neuroscientist — on The Big Bang Theory. (In between, she actually earned a PhD in neuroscience from UCLA…but that's another story.) As a child, Bialik had a serious overbite — but with all her time on camera, braces were just not an option.
"I never had braces," she recently told Dear Doctor – Dentistry & Oral Health magazine. "I was on TV at the time, and there weren't a lot of creative solutions for kids who were on TV." Instead, her orthodontist managed to straighten her teeth using retainers and headgear worn only at night.
Today, there are several virtually invisible options available to fix orthodontic issues — and you don't have to be a child star to take advantage of them. In fact, both children and adults can benefit from these unobtrusive appliances.
Tooth colored braces are just like traditional metal braces, with one big difference: The brackets attached to teeth are made from a ceramic material that blends in with the natural color of teeth. All that's visible is the thin archwire that runs horizontally across the teeth — and from a distance it's hard to notice. Celebs like Tom Cruise and Faith Hill opted for this type of appliance.
Clear aligners are custom-made plastic trays that fit over the teeth. Each one, worn for about two weeks, moves the teeth just a bit; after several months, you'll see a big change for the better in your smile. Best of all, clear aligners are virtually impossible to notice while you're wearing them — which you'll need to do for 22 hours each day. But you can remove them to eat, or for special occasions. Zac Efron and Katherine Heigl, among others, chose to wear clear aligners.
Lingual braces really are invisible. That's because they go behind your teeth (on the tongue side), where they can't be seen; otherwise they are similar to traditional metal braces. Lingual braces are placed on teeth differently, and wearing them often takes some getting used to at first. But those trade-offs are worth it for plenty of people. Which celebs wore lingual braces? Rumor has it that the list includes some top models, a well-known pop singer, and at least one British royal.
So what's the best way to straighten your teeth and keep the orthodontic appliances unnoticeable? Just ask us! We'd be happy to help you choose the option that's just right for you. You'll get an individualized evaluation, a solution that fits your lifestyle — and a great-looking smile!
For more information about hard-to-see (or truly invisible) orthodontics, please contact our office or schedule a consultation. You can read more in the Dear Doctor magazine articles "Orthodontics for the Older Adult" and "Clear Aligners for Teenagers."